Mission
The First To Go Program provides support for First-Generation College Bruins by offering connections to campus resources, creating networking opportunities with faculty, staff and peers, raising awareness of unique first-gen experiences, fostering communityand promoting academic success. First-Gen Bruins represent a little over 30% of the undergraduate population and UCLA is committed to their success!
Note: for our program, a "first-generation college student" is identified as a student whose parent/guardian have not received a four-year U.S. bachelor's degree.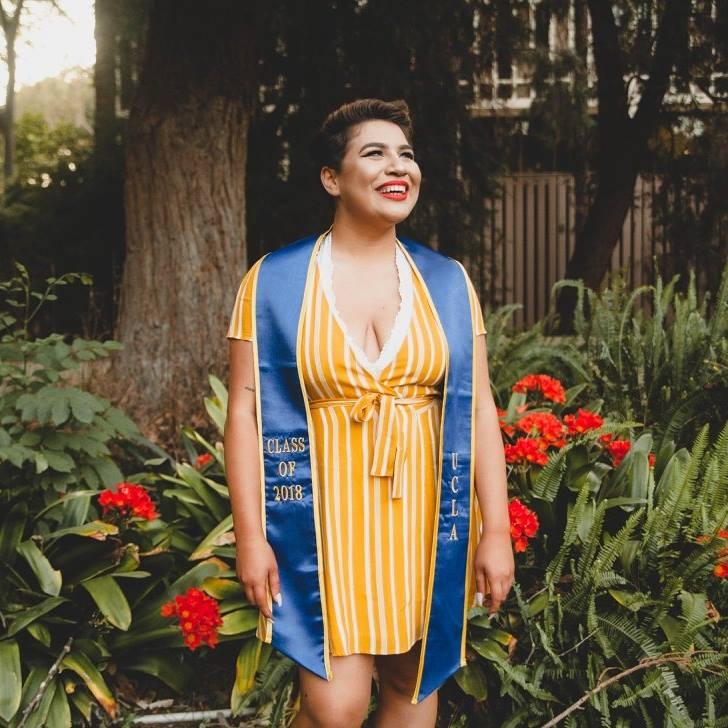 [Accessible Text: A graduating student standing in front of flowers posing and smiling while wearing a blue Class of 2018 sash.]
First-Generation College Student Defined:
First To Go defines a first-generation undergraduate or graduate student as one whose parent(s)/guardian(s) have notcompleted a four-year degree in the U.S.
You are still considered first-generation if you meet at least one of the following criteria:
Your parent(s)/guardian(s) went to a trade school.
Your parent(s)/guardian(s) went to a community college and took classes.
Your parent(s)/guardian(s) went to a community college and have an Associate's degree.
Your sibling(s) graduated from a four-year university.
Your parent(s)/guardian(s) received a four-year degree in another country.
First-Generation Initiatives at UCLA

[Accessible Text: A header with UCLA Campus Wide First-Generation Initiatives]
Following the success of the First-Generation Institute held in Spring 2017, the campus has made great strides in increasing support for first-generation Bruins. Numerous offices and departments across campus have hosted events and provided opportunities for first-generation Bruins, including students, faculty, staff, and alumni, to make connections and build networks to further expand their support systems. Other efforts include providing opportunities to learn more about the first-generation student population and their experiences. The campus' accomplishments range from implementing competency training sessions to the launch of the First To Go residential living-learning community. A number of the offices and their First-Generation initiatives carried out after the institute are included in this infographic.
ADMISSIONS
Competency training for staff
Targeted outreach to first- gen students in recruitment process for Tour Guides
I'm First Campaign
ALUMNI RELATIONS
New capability for alumni to self- identify as first-gen on the UCLA One mentoring program platform
First-Gen mentor/mentee pairs were made
First-Gen Mentor Welcome Reception
First-Gen Affinity group launched
CHANCELLOR'S OFFICE
Fireside chat with first-gen Bruins including faculty, staff, undergraduates, and graduate students
GRADUATE DIVISION
Workshops and gatherings for graduate students
Focus groups led by Professor Lorrie Frasure-Yoakley
FIRST TO GO
2nd Annual First-Gen Welcome Soiree
First-Gen faculty reception
Held trainings across campus (i.e. Humanities Division, etc.)
LAW SCHOOL
Workshops and gatherings for graduate students
MEDICAL SCHOOL
Reception for the first-gen community including medical students, faculty, and post-doc researchers
RESIDENTIAL LIFE
Launch of First To Go Living Learning Community, including parent and family welcome
SCHOOL OF ENGINEERING
Request for data and competency training for faculty
UC OFFICE OF THE PRESIDENT
System-wide institute, July 2018
Hypervisible/Invisible: Black first-generation and Asian American first-generation college students

Despite the popularity of Black first-generation narratives like Becoming (Michelle Obama) and "Last Chance U," Black first- generation students are likely hypervisible, while their Asian American counterparts are rendered invisible. Both populations are understudied. For instance, there are fewer than 20 articles published on these groups combined since 2008.
"Pilipino immigrant experiences can be characterized by trends of occupational downgrading and underemployament: phenomena in which Pilipinos are employed in work that is vastly non- commensurate with their educational attainment and/or skill levels."

— Prof. Tracy L. Buenavista, 2009
"Black first-generation college students face compounded challenges because, in addition to experiencing institutionalized racism and microaggressions they typically do not have access to the hidden curriculum that will allow them to be successful and to thrive in college."

— The Black First Gen Collective 2020
Given the great diversity within the first-generation college student population, especially within the University of California system, it is imperative to highlight the importance of intersectional identities and the value of disaggregated data.
Recommendations
Broaden the definition of "first-generation college" to account for students whose parents have been educated outside of the U.S. but whose educational journeys and social capital have been impacted by racism or immigration.
Disaggregate the data that you collect by race and ethnicity (among other identities)Also note that "Asian American" is a very broad category, so refine this information and encourage students to self-identify by ethnicity (e.g., Korean American) when possible.
Host events that specifically address race/ethnicity in addition to first-generation identity. These could be First-Gen Friday conversations or movie/ television show discussions.
Be intentional and conscientious in your marketing materials. Make sure that there are a variety of visible identities represented.
[Infographic of AAPI subgroups from The White House Initiative on AAPIs. Image is titled Top AAPI Subgroup: country of origin or birth among AAPI community. The data of the subgroups are the following: 22% Chinese (not Taiwanese), 19% Filipino, 16% Indian, 10%Vietnamese, 9% Korean, 6% Japanese, 18% Other (including Pakistani, Cambodian, Hmong, Thai, Laotian, Taiwanese, Bangladeshi, Burmese, Indonesian, Nepalese, Sri Lankan, Malaysian and Bhutanese)]
First gen data advocates should work closely with institutional research to disaggregate Asian American data to avoid data conflation within race and with other Asian identified student populations, such as international students.

— Dr. Linda Romasanta, UC San Diego.
UC First-Generation Virtual Symposium
The University of California's virtual symposium honored the national First-Generation College Celebration and the 55th anniversary of the Higher Education Opportunity Act. Topics included Asian American and Pacific Islander first-generation students, first-gen populations in graduate schools, supporting first-gen students' career readiness, and a critical look at the evolution of higher education in times of unpredictable challenge and opportunity.
Recommended Viewing
No Look Pass documentary (2011) [Amazon Prime]

A coming-of-age American Dream story of Emily 'Etay' Tay, a first generation Burmese immigrant and basketball superstar living a double life at Harvard who strives to play professionally in Europe. Etay's dreams are no slam dunk - sexuality, family, race, and the U.S. military conspire against her, firing her passions on and off the court.

The Half Of It (2020) [Netflix]

A shy, straight-A Chinese-American student helps the school jock woo a girl whom, secretly, they both desire. They find themselves connecting and learn about the nature of love.

Step documentary (2017) [Amazon Prime]

The senior year of a girls' high school step team in inner-city Baltimore is documented, as they try to become the first in their families to attend college. The girls strive to make their dancing a success against the backdrop of social unrest.
Bilal's Stand (2010) [Amazon Prime]

Bilal: a high school senior in Detroit - works long hours to keep up both his grades and his family's long-owned taxi stand. "The Stand" has been the family's social and financial hub for sixty years, and now Bilal is destined to carry the torch. Despite a series of setbacks at home, Bilal secretly submits a college application and takes up ice carving in order to win a scholarship. Now he is forced to decide whether to continue running the Stand - the only life he has ever known; or take a chance at social mobility. Based on a true story, Bilal's Stand radiates warmth, humor and originality. Sultan Sharrief's debut feature is a freshly crafted film filled with heart and authenticity that transports audiences to a world rarely seen on-screen and heralds the arrival of it's filmmaker as a new voice in American independent cinema.

Crazy Rich Asians (2018) [Amazon Prime]

"Crazy Rich Asians" follows native New Yorker Rachel Chu (Constance Wu) as she accompanies her longtime boyfriend, Nick Young (Henry Golding), to his best friend's wedding in Singapore. Excited about visiting Asia for the first time but nervous about meeting Nick's family, Rachel is unprepared to learn that Nick has neglected to mention a few key details about his life. It turns out that he is not only the scion of one of the country's wealthiest families but also one of its most sought-after bachelors. Being on Nick's arm puts a target on Rachel's back, with jealous socialites and, worse, Nick's own disapproving mother (Michelle Yeoh) taking aim. And it soon becomes clear that while money can't buy love, it can definitely complicate things.​
Recommended Reading
Zoboi, I. (2018). Pride, Balzer + Bray.
Bacho, P. (2010). Leaving Yesler, Pleasure Boat Studio.
Buenavista, T.L. (2009). Examining the postsecondary experiences of Pilipino 1.5-generation college students. ASHE/Lumina Critical Essay, 8, 1-12.
Chao, G. (2019). American panda, Simon Pulse Publishers.
De la Cruz, M. (2017). Something in between, Harlequin Teen.
Hobbs, J (2014). The short and tragic life of Robert Peace: A brilliant young man who left Newark for the Ivy League, Scribner.
Mock, J. (2017). Surpassing certainty: What my twenties taught me (also known as A twentysomething memoir), Atria Books.
Museus, S.D. (2011). An introductory mixed-methods intersectionality analysis of college access and equity: An examination of first-generation Asian Americans and Pacific Islanders. New Directions for Institutional Research, Issue 151, 63-75.
Obama, M. (2018). Becoming, Simon & Schuster.
Orbe, M.P(2008). Theorizing multidimensional identity negotiation: reflections on the lived experiences of first-generation college students. In M. Azmitia, M. Syed & K. Radmacher (Eds.), The Intersections of personal and social identities. New directions for Child and Adolescent Development, 120. 81-95.
Poon, O., & Byrd, A. (2013). Beyond Tiger Mom anxiety: Ethnic, gender and generational differences in Asian American college access and choices. Journal of College Admissions, 221, 23-31.
Revoyr, N. (2019). A student of history, Akashic Books.
Suskind, R. (1999). A Hope In The Unseen: An American Odyssey from the Inner City to the Ivy League, Perfection Learning.
Teranishi, R. et al (eds). (2020). Measuring Race: Why Disaggregating Data Matters for Addressing Educational Inequality, Teachers College Press.
For questions or comments please contact UCLA First To Go atfirsttogo@orl.ucla.edu