First-Gentorship
Our mentorship program, First-Gentorship, is First To Go's initiative to promote the growth and further the support of UCLA's first-generation undergraduate and graduate students. The program runs throughout the academic school year, consisting of events and activities for both mentees and mentors to interact.
As a mentor, students get the opportunity to give back to their community by fostering the growth of students following in their footsteps.
FIRST-GENTORSHIP MISSION
The purpose of the mentorship program is to provide holistic support for first-gen students navigating their professional, academic, and personal lives at UCLA. The areas of support are in: academic success, career readiness, financial wellness, personal development, and institutional navigation.

Academic Success
Career Readiness
Financial Wellness
Personal Development
Institutional Navigation
[Accessible Text: An image with logos for academic success, career readiness, financial wellness, personal development, institutional navigation.]
*This is a peer-to-peer mentorship program for admitted First-Gen undergraduate and graduate students at UCLA*
MENTOR COMMITMENT
You must commit to being a mentor for the academic year (Fall, Winter, Spring)
Attend Mentor Training
Meet with your mentee(s) at least once per quarter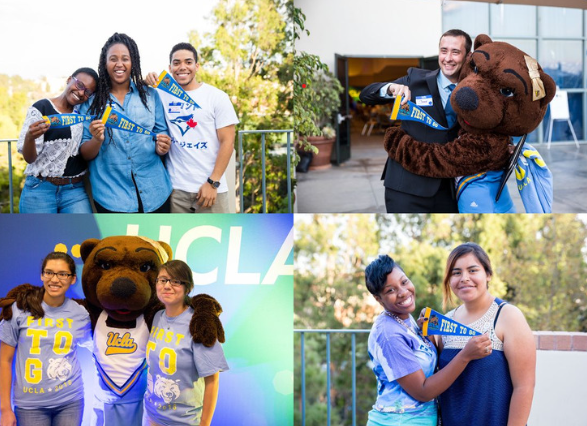 [Accessible Text: A collage of 4 pictures of people at different First To Go events. The first image of the top left are three students smiling and holding First To Go pennants. The second picture on the top right has Josie Bruin (UCLA brown bear mascot), hugging a person holding a First To Go pennant. The third image on the bottom left has Josie Bruin (UCLA brown bear mascot) with two students smiling. The last image on the bottom right has two students smiling holding a First To Go pennant.]