Campus Partners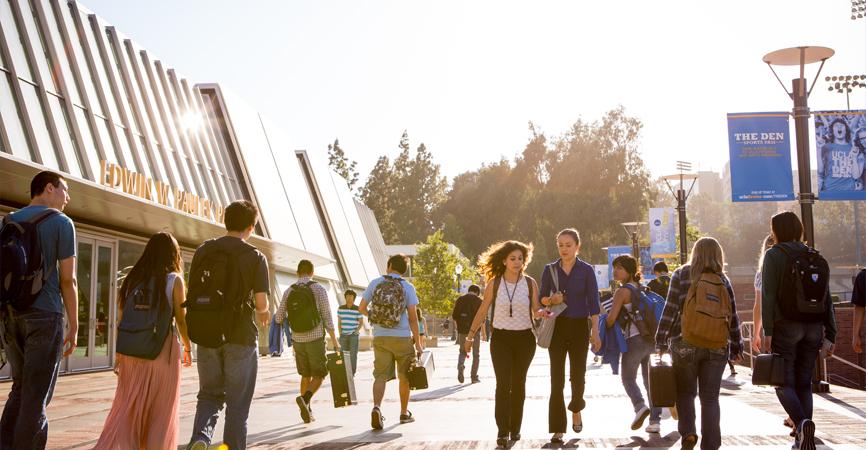 Academic Advancement Program (AAP)
The Academic Advancement Program, known on the UCLA campus as AAP, promotes academic achievement and excellence through academic advising, collaborative learning workshops, mentoring to prepare for graduate studies and professional schools, summer bridge programs for entering freshmen and transfer students, and scholarships for students. Many students in AAP come from high-need families, are the first in their families to go to college, are recent immigrants, or come from populations that have been historically underrepresented at the university.
To learn more about eligibility requirements, visit the Academic Advancement Program.
Bruin Resource Center (BRC)
The Bruin Resource Center (BRC) serves all UCLA students, with a particular focus on:
Current and Former Foster Youth
Transfer Students
Veteran Students
Undocumented Students
The BRC also offers programs that promote holistic development and education of the student and the larger campus community.
Career Center
Clarity. Confidence. Connections.
The UCLA Career Center provides a wide range of programs and services exclusively for UCLA students. From individual career counseling, internships & international opportunities, online resume critiques to a UCLA Alumni Network! To learn more about Career Center services, visit the UCLA Career Center overview of student services.
Center for Accessible Education (CAE)
The Center for Accessible Education (CAE) is designed to meet the unique educational needs of regularly enrolled UCLA students with documented permanent and temporary disabilities. CAE is committed to adding value to the UCLA community by:
Facilitating access to services that contribute to positive student outcomes
Fostering an atmosphere of shared responsibility in providing accommodations
Promoting an atmosphere of respect and inclusion
The CAE is here to provide access to you in meeting your educational challenges successfully.
Community Programs Office (CPO)
The Community Programs Office (CPO) serves as an umbrella department for the Student Initiated Outreach Center, Student Retention Center, and twenty five student-initiated community service projects.
The CPO strives to increase students from undeserved communities' access to higher education, retention in the university , and graduation rates while also serving as a conscious effort in the community, working towards the empowerment of all people.
To get involved with an outreach or service project visit the Community Programs Office website to learn more.
Counseling and Psychological Services (CAPS)
Counseling and Psychological Services (CAPS) is a multidisciplinary student mental health center for the UCLA campus. CAPS supports the academic and student development missions of the University and the Division of Student Affairs. They are here to support your mental health needs as you pursue your academic goals. Services are designed to foster the development of healthy well-being necessary for success in a complex global environment.
CAPS is pleased to offer a variety of services to meet student needs including:
- Crisis counseling available by phone 24 hours a day/7 days a week
- Emergency Intervention
- Individual counseling and psychotherapy
- Group therapy
- Psychiatric evaluation and treatment
- Psychoeducational programs and workshops
- Training for student leaders, mentors, staff and faculty on how to identify and refer distressed students
- Campus mental health and wellness promotion
GRIT Peer Coaching Program
Do you want 1-on-1 peer support to help you adjust to campus life? The Bruin Resource Center's GRIT Peer Coaching Program provides peer-to-peer life coaching for students. Well-trained peer coaches personally assist students to catalyze their success in multiple dimensions of well-being through strategies for stress management and mindfulness, fostering positive social connections, goal setting. and academics skills enrichment.
LGBT Center
The Lesbian, Gay, Bisexual and Transgender (LGBT) Center at UCLA offers a comprehensive range of education and advocacy services supporting intersectional identity development as well as fostering unity, wellness, and an open safe, and inclusive environment for UCLA's LGBT+ community.
Visit the LGBT Center to learn about programming, getting involved in the community or how to become a UCLA Ally
Student Organizations, Leadership, & Engagement (SOLE)
Join an existing student organization or start your own!
There are over 1,000 student organizations at UCLA. Visit the Student Organizations, Leadership & Engagement (SOLE) website to explore potential clubs and organizations to get involved in or learn more about how to create a new campus org.
Transfer Center
I ❤ UCLA TRANSFERS
The Transfer Student Center is UCLA's central hub for all things transfer! Check out the Transfer Student Program to learn about transfer specific resources, programs, and resources.
Study Abroad
The International Education Office (IEO) aims to celebrate and support the many identities of students who enrich their education through study abroad. As the first person in your immediate family who will graduate from college, you may feel like studying abroad adds another layer of complexity to your educational experience. Check out Diversity and Identity Abroad ( https://ieo.ucla.edu/get-started/diversity/ ), and various opportunities like UCEAP, UCLA Travel Study, and the UCLA Global Internship Program. Contact the IEO to assist you with your questions and navigate these resources.
Undocumented Students Program
The Undocumented Students Program (USP) supports undocumented students by providing caring, personalized services and resources that enable students to reach their highest potential. USP strives to support all of the members of the UndocuBruin community by advocating for education equity, empowering students, and fostering a campus environment.
Other Undocumented Student Resources: