First Gen Graduation Celebration
The First Gen Graduation Celebration is an event that builds community and commemorates the achievements, hard work and dedication of first generation students. We strive to empower our undergraduate and graduate students with motivating keynote speakers, light refreshments and community building during the event.
To all First-Gen Bruins, congratulations on your amazing accomplishments and success! You have overcome so many challenges to get to where you are today. You should be very proud and deserve to celebrate fully with your loved ones and those who helped you along the way.
First-Gen Cords
Our office distributes FREE First Gen Graduation Cords during Spring quarter to all graduating First-Gen Student. We distribute them on a first come, first-serve basis until they run out.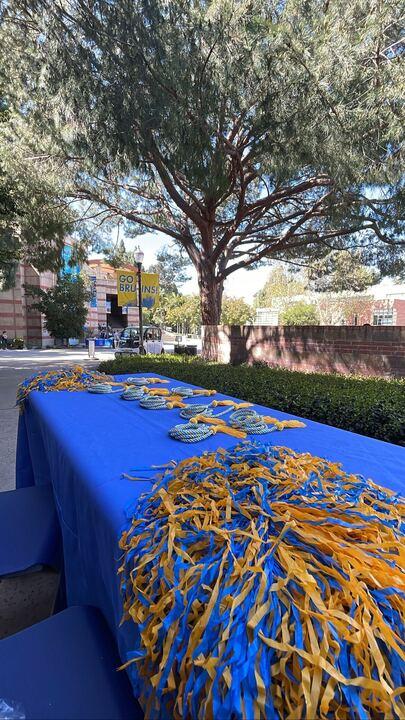 [Accessible Text: Image of table set up with First-Gen Cords and blue and yellow pom poms with a tree in the background on the side of the Student's Activities Center]
Frequently Asked Questions
Q: I'm unable to make it to cord pickups, can my friend pick mine up for me?
A: Yes, students are able to pick ONE additional cord for a friend. You will need their name and email at the time of pickup.
Q: I'm studying abroad, how can I get a cord?
A: Please follow the above instructions and have a friend pick it up for you!
Q: Can first-gen graduate/professional school students receive a cord?
A: Yes! First-gen cords are open to ALL current students (undergraduate and graduate)
Q: All of the cords ran out before week 5, can I still get one?
A: Cords are first come, first serve. We highly suggest students get their cord early as soon as their schedule allows.
Q: Can alumni receive cords?
A: Due to high-demand cords, are only for the Class of 2023
For this academic year, we are no longer distributing cords. On behalf of First To Go, Congratulations on your achievements and future endeavors!
Additional questions can be emailed to firsttogo@orl.ucla.edu