First To Go, Proud to be!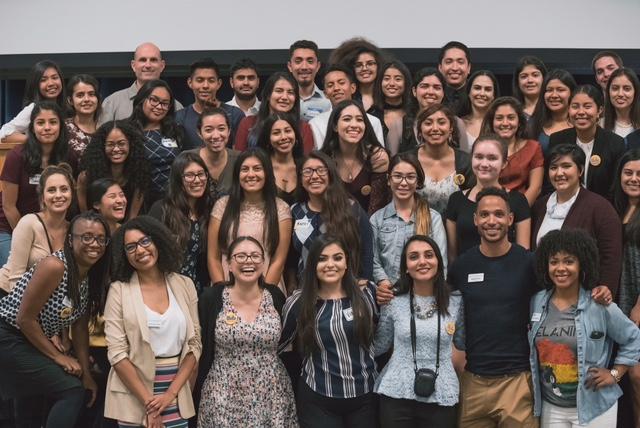 Photographed: 2017-18 First To Go LLC and First To Go Staff at the 2nd Annual First-Gen Welcome Soiree
About
The First To Go Living Learning Community (LLC), located in Hedrick Hall, provides an inclusive living environment for students who identify as a first-generation college student. This community is designed to stimulate academic success by providing and cultivating an encouraging environment to aid in maximizing student success. As a community, the LLC assists in family and community connections, and aid in managing the "two worlds" of school and home while creating pride and visibility among the diverse UCLA first-generation community. Students who chose to live in this community gain an extra layer of support in navigating through the university, increased connections to faculty , staff and first-generation specific resources and a fostered support system of first-generation peers.
The primary focus of the First To LLC is to heighten visibility around the first-generation college identity and cultivate community through the common shared experiences of navigating university life.
All students, regardless of cultural heritage, identity or major, are invited and encouraged to join in building the first-generation experience.
*Note: for our program, a "first-generation college student" is identified as a student whose parent/guardian has not received a four-year U.S. degree.
How To Apply
To apply, under "living Learning Communities" on your Housing application, indicate "First To Go" as your preference
(Returning Students): Submit your housing application by January
(First-Year Students): Submit your housing application by May
(Transfer Students): Submit your housing application by June
AN IMPORTANT NOTICE IF YOU DECIDE TO APPLY!
If you would like to live with a specific roommate in a Living Learning Community, you both must choose "Living Learning Communities" as your housing option and name each other as desired roommates when prompted. You will be placed with your preferred roommate if this step is followed and the application is completed, as space allows.
Related Scholarly Articles
Living-Learning Programs and First-Generation College Student's Academic and Social Transition to College