College Academic Counseling
College Academic Counseling (CAC) is one of four undergraduate advising units of UCLA, which aim to guide the undergraduate career of students to reflect their academic and personal goals. CAC offers insight towards degree requirements, general education (GE) requirements, and credit transfers from AP/IB and community college, as well as developing a four year plan. We recommend students speak with a CAC counselor 1x/quarter to ensure that you are on the right track towards graduation.
To learn more about CAC and use their services, visit the CAC website or stay connected through the following: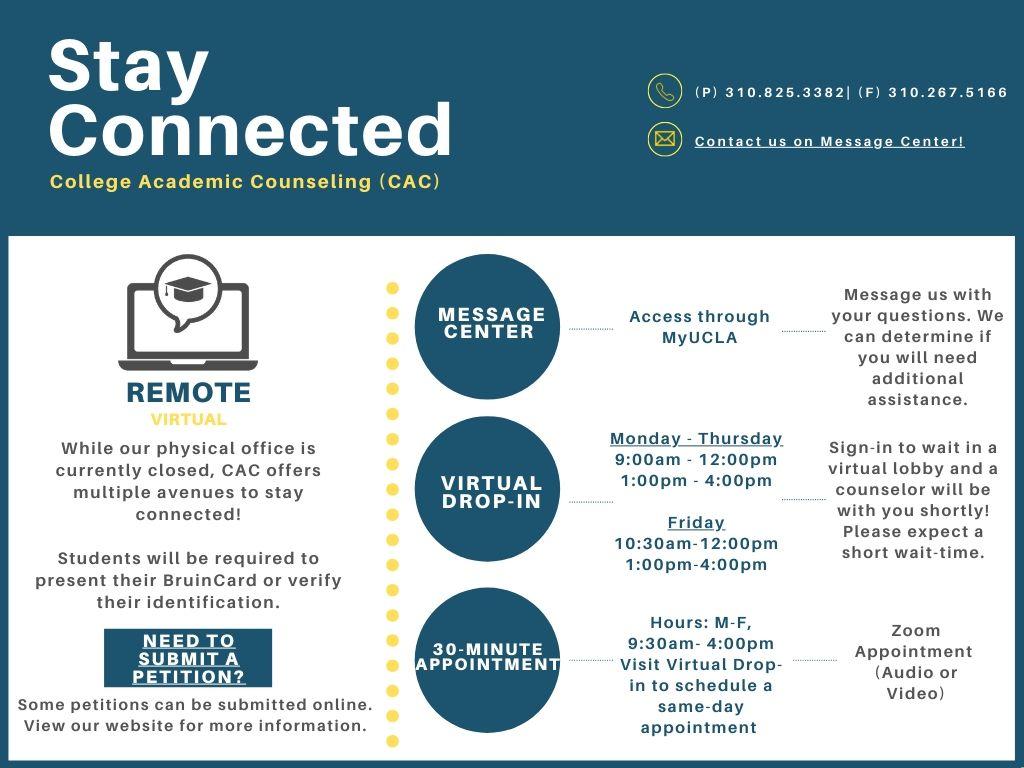 Note: College Academic Counseling is open to students with majors within the College of Letters and Sciences. See list below for other advising units.
Additional advising units administered by UCLA College:
Academic Advising offices outside of
the College of Letters and Science:
College Academic Mentors
College Academic Mentors (CAMs) are graduate students from a wide variety of academic departments who advise undergraduates in the following areas:
GE Program Planning (freshman & sophomores)
Choosing a Major (freshman & sophomores)
Preparing for Graduate / Professional School (juniors & seniors)
College Academic Mentors are available for both same-day and advance appointments. Schedule your appointment with a CAM at A-316 Murphy, Window 1.
CAMs are also available on the HILL! Get academic advice, help with majors/minors and class planning, grad school preparations. Monday-Thursday 3:00pm-8:00pm, DeNeve Office of Residential Life
CAMs on the Hill
Scholarship Resource Center
The Scholarship Resource Center, which is located on the Hill, offers scholarship essay writing support, proofreading, individual counseling, quarterly workshops, scholarship books and resources and drop-in scholarship counseling. Regardless of financial aid eligibility, support services are available for all students.
233 Covel Commons | Mon-Fri 11am-6pm
Phone: (310) 206-2875
Undergraduate Writing Center
Also conveniently located on the Hill is the Undergraduate Writing Center (UWC). One-on-one assistance with any kind of paper for any class, and at any stage of the writing process. The UWC can assist with helping identify a topic, formulating a thesis, organizing your ideas, incorporating and citing, or leaning to proofread effectively. Drop in during regular hours or make an appointment.

238 Powell Library | Mon-Thurs 10am-6pm; Fri 10am-3pm
Rieber Hall 115 (on the Hill) | Sun- Thur 7pm-9pm
Phone: (310) 206-1320